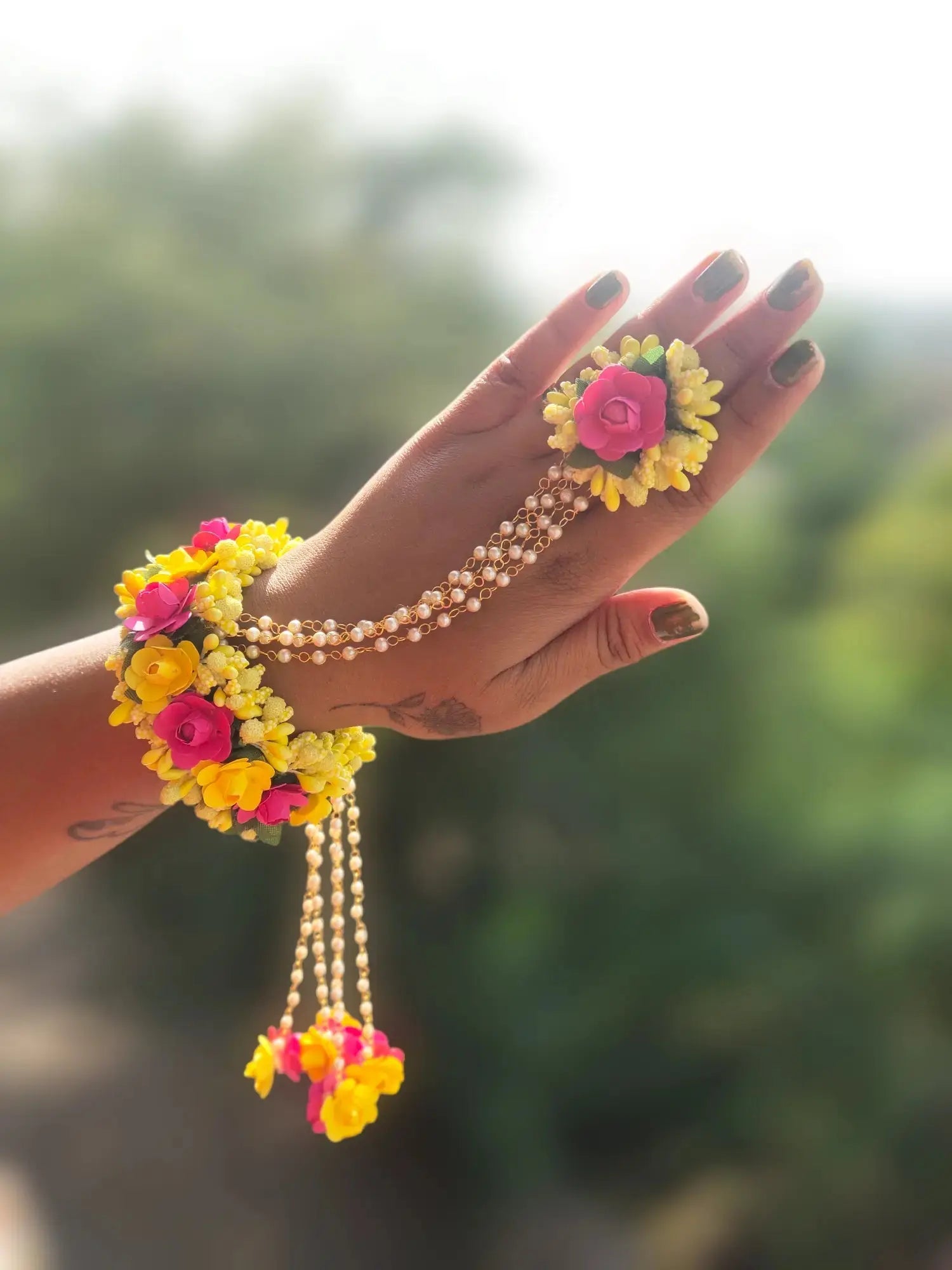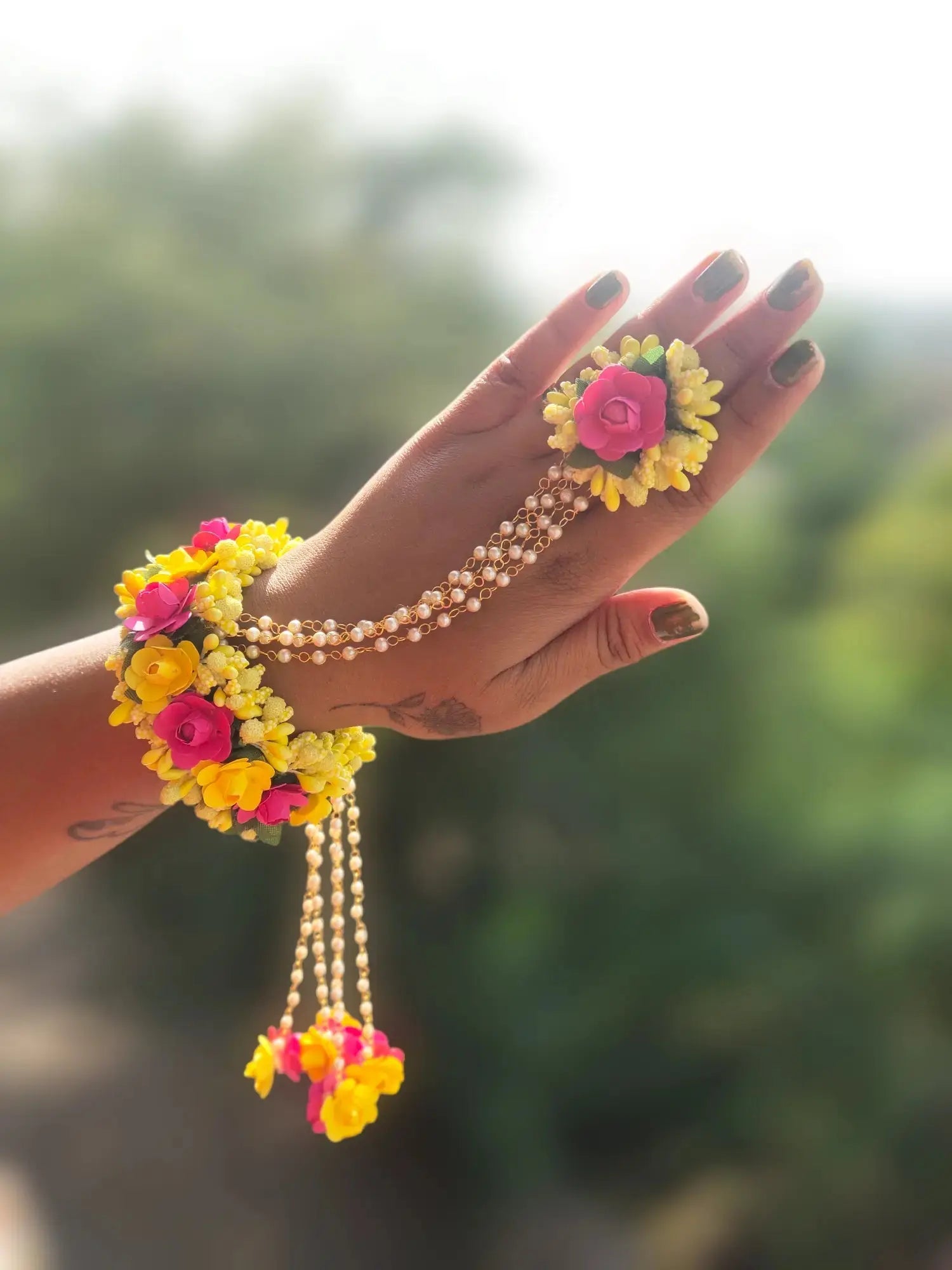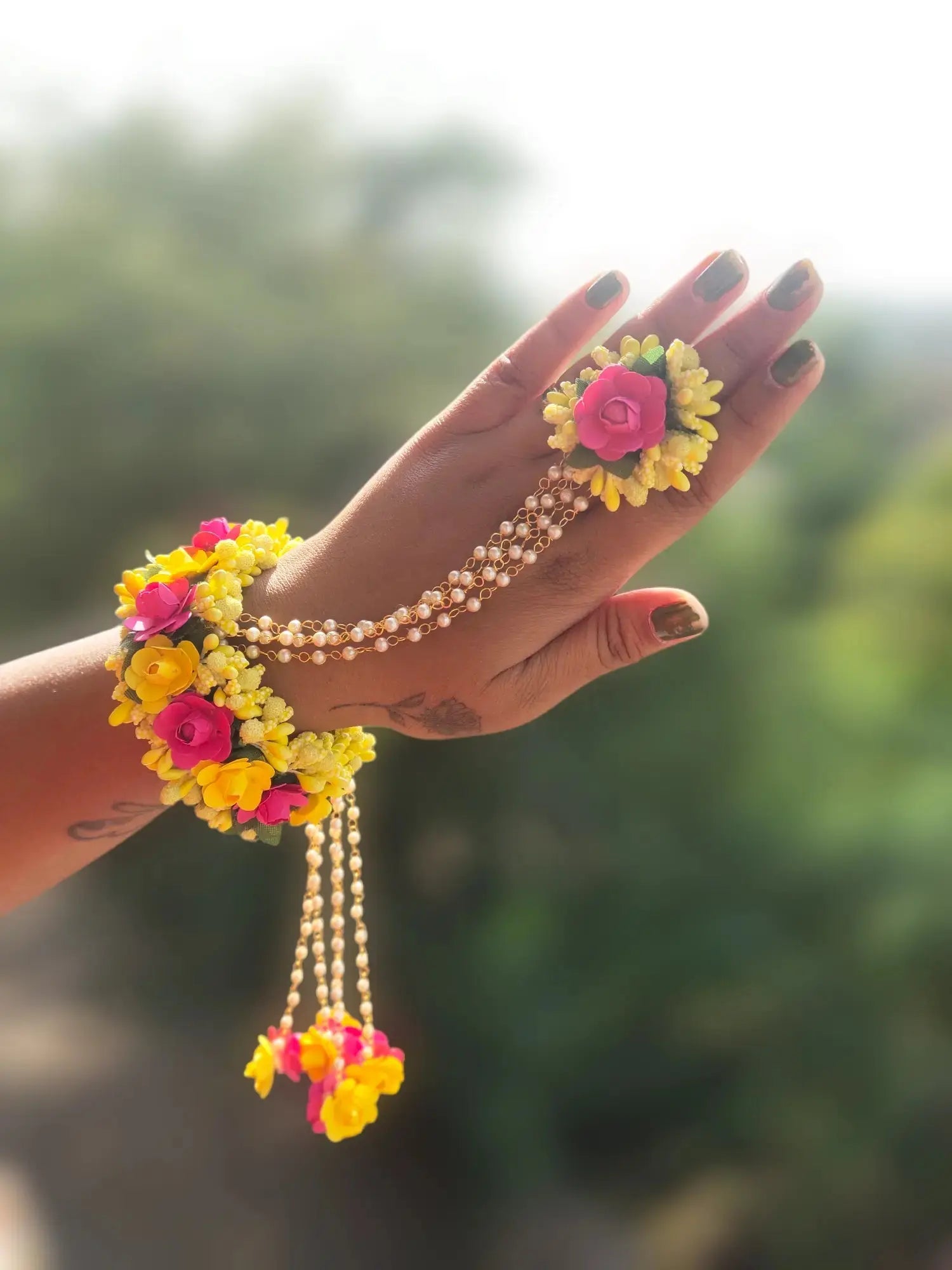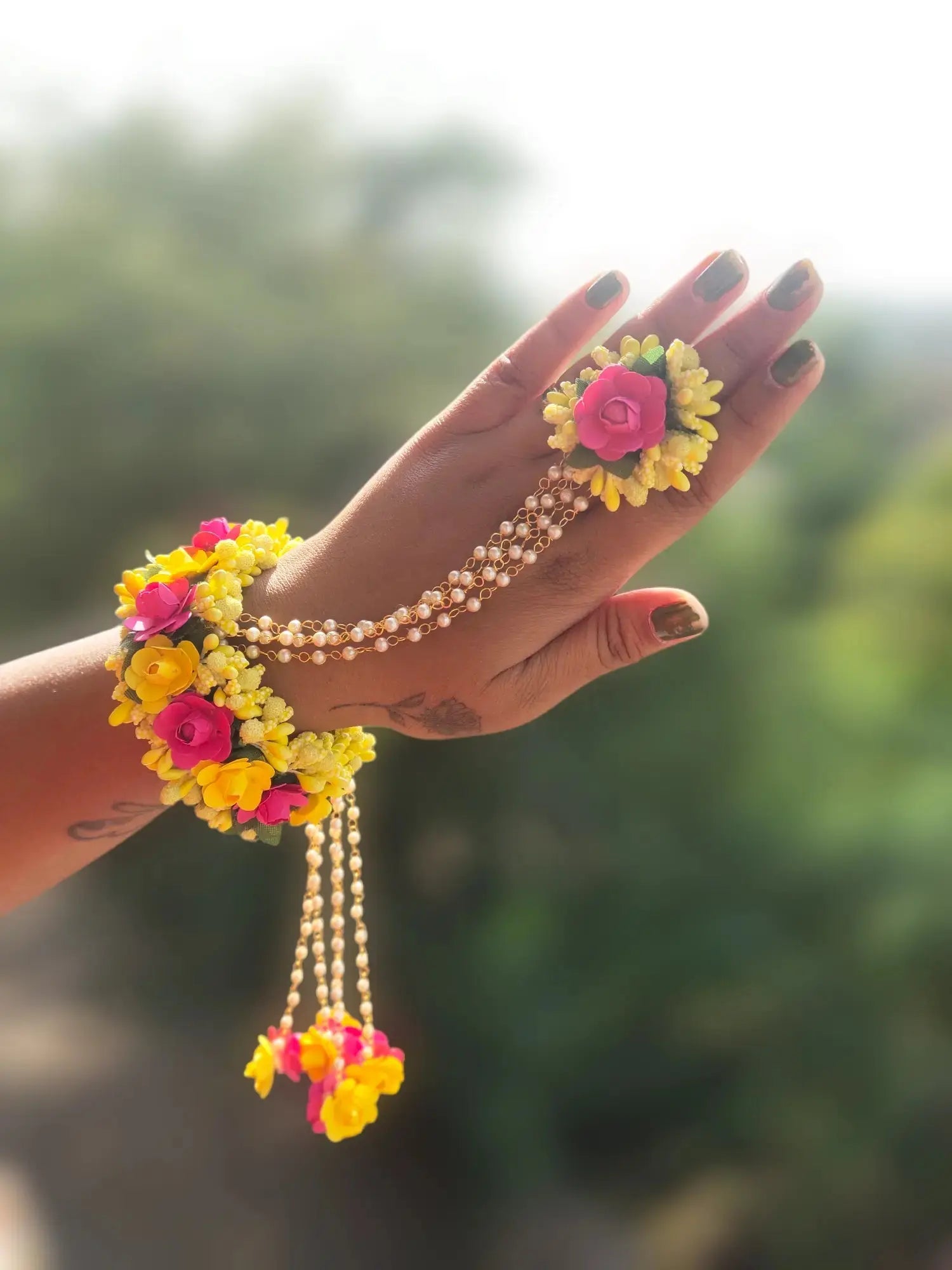 Saubhagyavati Floral Hand Bracelet with kalire/kaleera
Artificial Floral Jewelry Set for Haldi and Baby Shower
Add a touch of vibrant elegance to your haldi and baby shower celebrations with this exquisite Artificial Floral Jewelry Set in stunning yellow and white colors. Handcrafted with meticulous attention to detail, this set is designed to complement your special moments and make you stand out on your big day.
Our exquisite flower jewelry set is the perfect way to elevate your style and make a statement for any special occasion. Expertly crafted from lifelike artificial flowers, each piece features a vibrant color palette and intricate design that is sure to turn heads.
Whether you're attending or celebrating a wedding, party, baby shower, bridal event, haldi, mehndi ceremony, or festive celebration, our flower jewelry set is the perfect way to add a touch of floral elegance to your memorable moments.
Outstanding Features
Vibrant colors
Lightweight and comfortable
Versatile design suitable for a variety of occasions
Durable ensures long-lasting beauty
Perfect surprise for weddings and special occasions
Elevate your style and make a statement with our exquisite flower jewelry
Order your flower jewelry set today and add a touch of floral elegance to your next special occasion.
Product Supreme Quality
Our commitment to product quality shines through in our meticulous use of premium materials, including fine-quality artificial flowers, delicate pollens, and exquisite gota flowers, ensuring every piece of jewelry exudes elegance and durability.
Artificial Pollen
These Pollen Come In A Wide Range Of Colors, sizes and designs. With life like And Soft Touch and a thin Gauze and Paper Wired Stem Detailing, they provide an elegant and beautiful look to wherever they're placed .
Gota Patti Flower
These Gota Patti Flowers are beautifully hand sewn into a lovely flower shape. These alluring pieces are perfect for adornment of any embroidery, jewelry or craft project.
Artificial Flowers
Artificial flowers, crafted for flower jewellery and decorative accents, effortlessly mimic nature's beauty, providing lifelike elegance without any environmental harm.
We want to make sure you have a smooth and transparent experience with our shipping process. Please take a moment to review our shipping policy:
1. Shipping Rates:
We offer tiered shipping rates based on your location within India. The rates are as follows:
Stander Shipping: ₹75
Express Shipping: ₹100
Rush (On Priority): ₹250
2. Free Shipping:
Enjoy free shipping on orders above ₹1,000.
3. Cash on Delivery (COD):
For Cash on Delivery orders, there is an additional COD charge:
COD Charges: ₹50
We encourage online payments and offer a smoother experience with discounted rates for prepaid orders.
4. Express Shipping:
Need your order in a hurry? Opt for our Express & Rush shipping option at an additional cost. Contact our customer support for details.
5. Bulk Order Discount:
Planning to make a bulk purchase? Enjoy discounted or free shipping on orders above ₹5,000.
6. Delivery Times:
Our team strives to process and dispatch orders within 1-2 business days. Delivery will happen in 6 to 7 Days after an order. Delivery times may vary based on your location.
7. Returns and Exchanges:
Check out our returns and exchanges policy [link to policy page].
8. Tracking Information:
Once your order is dispatched, you will receive tracking information via email or sma. Stay informed about your shipment's progress.
9. Communication:
We believe in clear communication. If there are any changes or delays to your order. Please feel free to reach out at our WhatsApp or hello@saubhagyavati.in for any questions or concerns regarding your order
Thank you for choosing Saubhagyavati.in. Happy shopping!
For International Shipping
We ship international orders. These can be placed only upon a request. Please drop us a message on whatsapp and we'll let you know if we can send your order.

Returns will be accepted for up to 10 days of Customer's receipt or tracking number on unworn items. You, as a Customer, are obliged to inform us via email before you return the item, only in the case of:
– Received the wrong item.
– Item arrived not as expected (ie. damaged packaging).
– Item had defects.
– Over delivery time.
– The shipper does not allow the goods to be inspected before payment.
The returned product(s) must be in the original packaging, safety wrapped, undamaged and unworn. This means that the item(s) must be safely packed in a carton box for protection during transport, possibly the same carton used to ship to you as a customer.
Hathphool
Regular price
Rs. 1,250.00